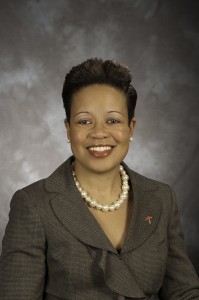 The below transcript is from an October 2011 interview response from Joelle Hayes, VP of Enterprise Diversity and Inclusion at The Travelers Companies, Inc. Due to scheduling conflicts this interview was a written response instead of a live interview.  Interviewees for the series Diversity and Inclusion: Yesterday, Today and Tomorrow were asked for their personal opinions and not those reflective of their current or past employer.  The views expressed are not necessarily those of any employer or The Dagoba Group.
Quick Question Links:
Personal History - CDO Role - D&I Origins - D&I Business Reason - Learning Tools - Workforce Application -Dimensions of Difference - Redo? - No Need for CDO Role -Most Advanced Country - Future Prediction

Dagoba Group: Give us a brief overview of your history within the D&I space.
I currently serve as Vice President of Enterprise Diversity & Inclusion at Travelers. I joined Travelers in April 2007. Prior to joining Travelers, I was Manager, Corporate Recruiting and Diversity Partnerships at United Technologies Corporation, and previously held positions of increasing responsibility in both the nonprofit sector, and in higher education related to cultural programs and diversity.

Dagoba Group: As a diversity officer, what are your overall responsibilities?
I've developed the framework of the company's diversity focus and lead the execution of Travelers' diversity strategy, which includes managing both internal and external strategic relationships in order to drive and enhance the organization's culture and achieve its business objectives.

Dagoba Group: Often we hear corporate diversity initiatives originated in response to legal compliance. Do you believe this is true for your industry? In your industry, what percent of D&I initiatives do you believe stem from the need to stay legally compliant today?
Although I'm unable to speak for the entire industry, that was not the case for Travelers.
I do not believe that being legally compliant is really the driver today. In order for businesses to be successful, they have to cast a wider net, not only for customers but for the entire workforce. Also, from a vendor/supplier standpoint – even for companies that aren't beholden by federal guidelines – diversity should be viewed as an opportunity to achieve competitive advantage.

Dagoba Group: When do you believe D&I became a business reason (non-legal compliant) focus within the corporate world? Why?
Once barriers of affirmative action in the 70's and 80's were broken down and people had an opportunity to demonstrate themselves outside of traditional roles, it was an easy thing to do. Many organizations moved from compliance to doing what simply made sense. Companies needed to respond to the changing marketplace.
Dagoba Group: Do you believe there is still a lot of work to be done on developing the business case behind D&I? What conversation have you found to be the most engaging for line managers?
Businesses have begun to leverage the value of diversity of thought – in response to the marketplace – to help line managers understand how this impacts them on a day-to-day basis. Being more inclusive in reaching out to staff members to consider their suggestions and ideas have yielded clear results. This doesn't need to be redeveloped – just applied in a practical manner. We need to ask ourselves: How do we provide the tools managers need to respond and integrate these thought patterns successfully? How do we – as leaders – help them to create a diverse workforce?

Dagoba Group: What tools worked best in the past for educating the corporate world in D&I? Are they still effective today? What do you believe is the best method for development for today and tomorrow?
It depends on the culture of the organization. Metrics and tangible outcomes are critical for some organizations. When you want the company to embrace new ideas, you have to tie them to something important to the organization that can be measured. Our senior leaders have been involved from day one and communicate regularly the importance of diversity and inclusion within the organization. We have incorporated initiatives that include company-wide diversity training and a recruitment process that require a diverse slate for certain roles. However, it depends on the organization. By talking to other companies, you can determine what fits your organization best.

Dagoba Group: For your industry, within the workforce D&I area (recruiting, promotions, raises, team development, retention etc) which one do you believe is the most advanced? Which has the greatest need?
We partner with an executive search firm that brings together individuals in the insurance space around diversity to talk about challenges we face as a group. Historically, the insurance field hasn't been particularly inclusive to many people. The (insurance) image usually reflected a man carrying a briefcase and raincoat – door to door salesman. This representation still remains for many people. In addition, there was a mistrust of insurance related to life insurance in the early 1900's where people just did not see the benefits. Property and casualty companies were being lumped into the same category with life insurance.
Collectively, we recognize that education and branding are opportunities for people to consider the insurance industry; this will further create prospects through recruiting efforts. As it relates to retention, we are just starting to have these conversations.

Dagoba Group: There are many dimensions of differences within our workplace (e.g. gender, cultural, religious, age, ableness, sexual orientation, ethnicity etc). For your industry, what do you see as the most wide spread area of development? Where do you see it moving in the future?
For Travelers, having a broad perspective through a diverse work force is significant because it allows the company to reflect the communities we serve.

Dagoba Group: If you were able to turn the clock back and redo a particular engagement on D&I (either one you have given or experienced), what would it be and why? How would you do it differently?
Although we are still young in the process, we have been deliberate in introducing parts of our strategy. I'm very pleased with the progress we've made.
Travelers introduced the Appreciating Differences course, targeted to the entire employee base of over 30,000. The objectives of this program are to:
Examine – Define diversity and comprehend how to actively support Travelers' goal to maintain a diverse work force
Explore – Shed light on bias and how it affects interactions, decisions, and behaviors
Engage – Apply learned skills from program in employee interactions and develop an action plan to ensure sustainability and an inclusive work environment that maximizes diversity to achieve excellence.
As of mid-September (2011), over 28,000 employees have completed the program.
There is no need to turn back the clock. We have to continue to move forward. Every company is different. Diversity is a segment of the entire company – not a standalone. The goal is to meet people where they are and move forward together.

Dagoba Group: Some say it is the role of a D&I officer to work themselves out of a job by creating an inclusive workplace which will no longer need the D&I focus. How do you respond to this statement?
There will always be a need to ensure that everyone has a voice at the table. That's what the job is – to equip others with the tools to do our job so we're not the only ones doing it.

Dagoba Group: Which country have you found to be the most advanced in the corporate D&I space? Why?
My experience in this space has been primarily domestic.

Dagoba Group: Ten years from now, where do you believe we will be? Should be?
Recruiting and retaining a diverse workforce is a key business imperative for Travelers, so we will continue to move forward accordingly.
Travelers also contributes significant funds to projects that promote the achievement of post-secondary education for low-income and historically underrepresented students to prepare the diverse workforce of tomorrow.